Hop in your car and experience the unmatched nostalgia of Route 66. The First Hundred Miles of the iconic Mother Road are lined with throwback diners, fascinating museums and some of the most popular tourist spots along the acclaimed route. To help get you started, we've assembled a road trip itinerary featuring some of the best relics you'll find along The First Hundred Miles of Route 66.
Joliet Area Historical Museum and Route 66 Welcome Center
204 N. Ottawa St., Joliet
Life-size statues of The Blues Brothers — "Joliet" Jake and Elwood Blues — are photo-ready at the Joliet Area Historical Museum's interactive and interpretative Route 66 Welcome Center kiosk. While there, you also can climb into the white, drop-top convertible in the drive-in display, a photo-worthy exhibit complete with classic carhop and Route 66 signage. Don't forget to visit the gift shop and load up on a great selection of Route 66 memorabilia.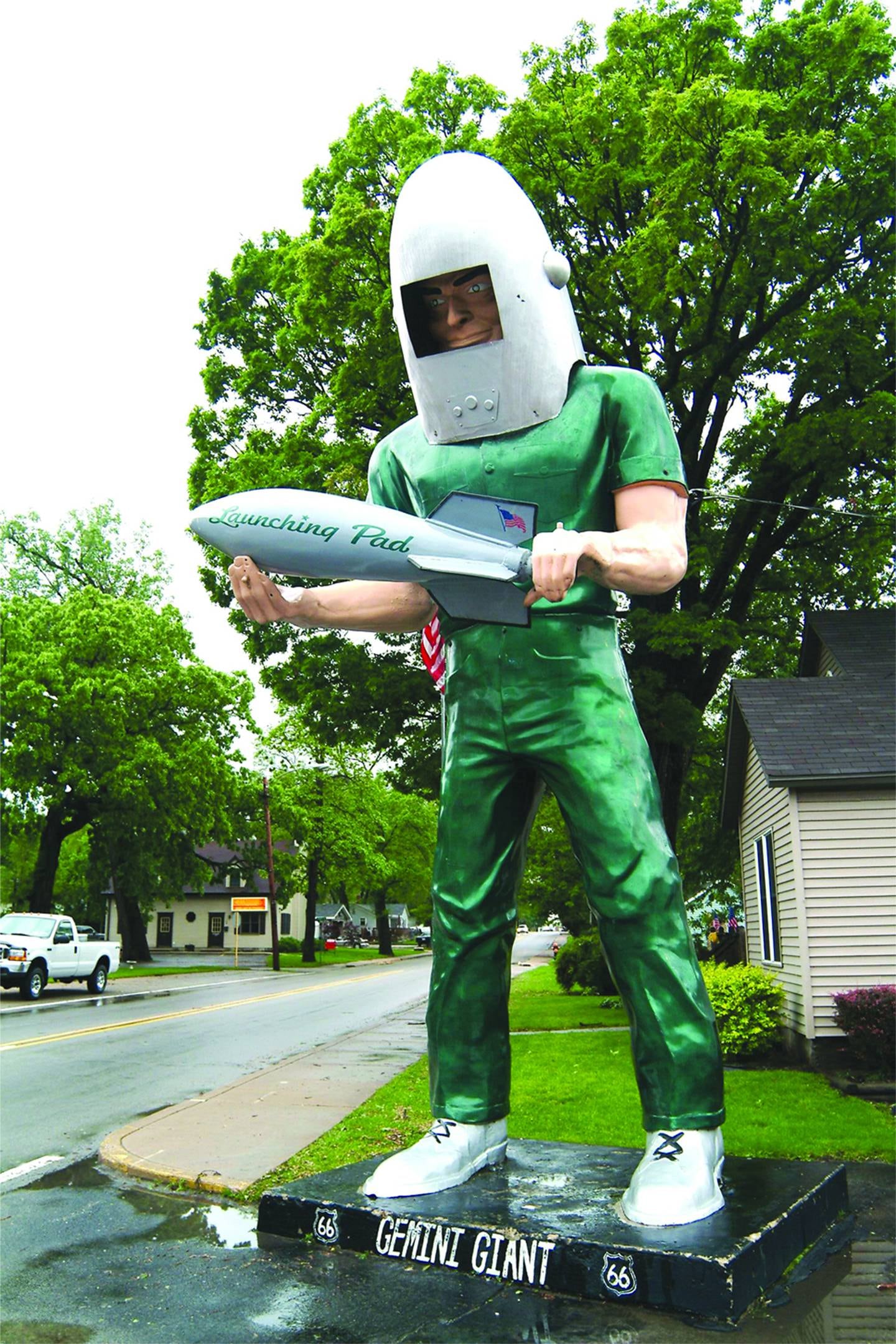 Gemini Giant
810 E. Baltimore St., Wilmington
The most iconic and instantly recognizable of the "Muffler Men" statues that dot Route 66, the Launching Pad Drive-In's Gemini Giant is a beloved institution on the Mother Road, and one of its most popular photo destinations in Illinois. Known for the unique space-age theme and quirky color palette, the Goliath-like figure has been welcoming travelers since the mid-1960s. In 2017, Holly Barker and Tully Garrett purchased the Launching Pad, and pledged to return the iconic sculpture to its former glory. Within a year, a beautifully restored Gemini Giant was unveiled on its original parking lot pedestal, ready for its closeup.
Former Riviera Restaurant
400 E. Mazon St., Gardner
Another unique photo opportunity, located in the same park as the popular 66 photo-op Two Cell Jail, is the former Riviera Restaurant. Moved by city officials such after a fire in 2010, the Riviera Restaurant once served notable personalities as Al Capone and his gang. Built in 1906 as a horse-drawn food cart, it eventually was located at 206 N. Center St., where it sat until the blaze. Closed but restored, here is your opportunity to get a peek at one of the oldest standing landmarks along Route 66.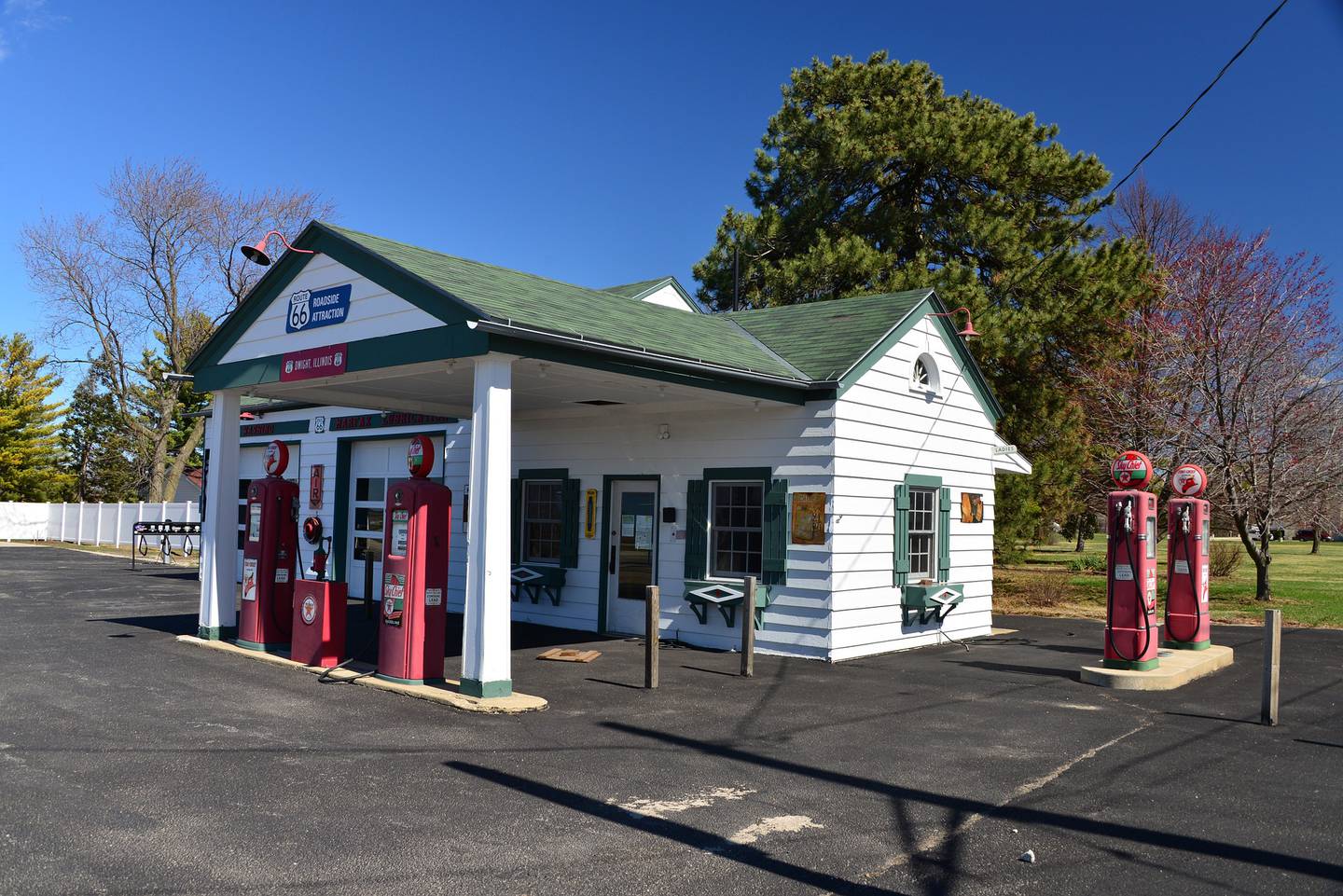 Ambler's Texaco Gas Station
West Waupansie Street, Dwight
Built in 1933 and named for its longtime owner, Ambler's Gas Station is a Route 66 gem. Lovingly restored, you can learn all you need to know about the Mother Road and more at this information kiosk and gift store. Ambler's starts its year every May 1; call 815-584-3077 for current hours of operation. Widely regarded by Route 66 enthusiasts as one of the best restored service stations along the Mother Road, this is a great destination to pull up and snap some selfies.
Standard Oil Gas Station
400 S. West St., Odell
While you can't buy gas at this classic service station, you can still pull your car up for a picture celebrating an iconic sight along the Mother Road. Built in 1932, the now restored Standard Oil Gas Station in Odell is regularly open for tours. You'll also find a great selection of Route 66 merchandise inside the station. Restored by the Illinois Route 66 Association, the building is now on the National Register of Historic Places. This should be on every motorist's bucket list as a "must-see" along the route.
Bob Waldmire Bus
110 W. Howard St., Pontiac
Now permanently parked at the Route 66 Museum in Pontiac, you'll find Bob Waldmire's formerly modified school bus/living space on display outside the museum. Said to have inspired the character Filmore from the classic Pixar film "Cars," Waldmire was an itinerant artist and conservationist, who could be seen driving his deeply personalized art cars along the Mother Road for many decades. While at the museum, be sure to also grab a photo of his Volkswagen minibus, and read about the history of this local legend who delighted the world with his art and love of Route 66.